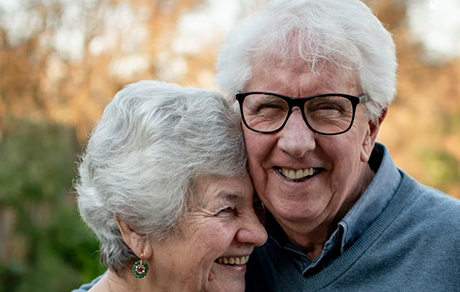 Can I buy life insurance for my parent?
It's hard watching our parents age. After all, for years they were our primary caregivers, tending to our every need. As they age, sometimes the tables are turned and we need to take care of them. Many older adults don't have enough savings to cover their final expenses, and that means that at some point you might need to step in to help them make a plan.
If you're wondering, "Can I get life insurance on my parents?," the answer is yes. As long as they agree to it, taking out a life insurance policy for parents can provide you with a cash payout to cover the costs of their care after their death. No parent wants to be a financial burden, and life insurance gives you both peace of mind that their needs are covered.
Depending on your loved one's wishes, the average funeral can cost between $5,000-$15,000. It's important to talk with your parents sooner rather than later about their end of life wishes, so you have time to plan financially for them. A life insurance policy is a good way to earmark money specifically for their funeral or related costs.
How to get life insurance on a parent
Once you've decided a policy is the right move, how do you actually buy life insurance on a parent? These steps can help make the process go smoothly.
Talk to Your Parents About Their Wishes.

Be open with your parents about the type of care they'd like as they get older. For example, will they want to live with you? Are they open to residential care or live-in help? This is also a good time to figure out if there are any causes or family members they'd like to provide for after they're gone.

Get Your Parents' Consent.

To buy life insurance for a parent, they need to provide consent and be legally competent to sign the paperwork. You'll also need to prove insurable interest, which means showing that their death will have a financial impact on you. You'll also need their personal information, like their Social Security number, to complete the application.

Select a Plan and Coverage Amount.

There are several types of life insurance for seniors to choose from based on your parent's needs. Once you've discussed their needs, you can pick the plan and coverage amount that makes sense for both of you.

Choose a Beneficiary.

It's important to assign a beneficiary for your parents' life insurance so that the money supports their wishes. Depending on the plan you and your parents pick, you can be the sole beneficiary or you can split the benefit between multiple recipients.
Can you get life insurance on a parent without their consent?
No, you need your parents' consent to take out a life insurance policy on them. You can fill out the application for them, but your parents will need to sign it (which also means they need to be legally competent to do so).
If your parents want to budget for their funeral costs ahead of time: Final Expense Life Insurance is a smaller policy typically used for funeral expenses and related costs. These policies have lower premiums compared with other permanent life plans, so they can be a good choice if you want affordable coverage specifically for these expenses.
If your parent has significant health issues: Guaranteed Life Insurance is often the best option for people who can't qualify for other policies because of their age or health. Premiums are higher and coverage amounts are lower than other policies, but guaranteed issue can still provide a cushion to cover funeral expenses or other needs.
Senior Life Insurance Company exists to help people so their families are not burdened with financial difficulty at a time they need it most. Call us today at 229.228.6936.