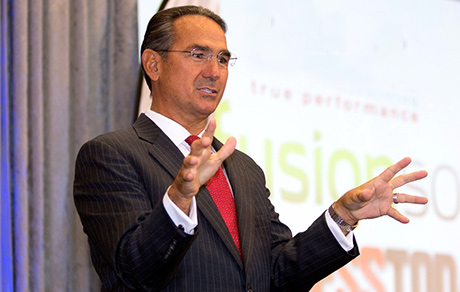 International business coach, #1 Amazon.com best-selling author and favorite conference speaker, Howard Partridge, spoke to Senior Life's home office leaders this week. Howard shared, "Everything rises or falls on leadership. People want to be noticed. People want to feel important; and we all have inherent value." As he inspired Senior Life's leaders, he encouraged them to intentionally work to make every single employee feel this way.
President and CEO, Ron Powell, is using tools such as these to inspire his team to even greater heights. "I want my team to know how valuable they are, and I want them to do the same for each person in their divisions at Senior Life."
Savannah Yancey, Director of Claims, says, "Our day with Howard was a "Phenomenal" day learning about personalities. Understanding that each personality style is needed to make Senior Life the powerhouse we desire to be. We are a melting pot of very intelligent, passionate people and we will only rise from here. We are greatly appreciative of not only Howard's time but his personal attention to our leadership team."
Find more information about Howard Partridge or his book 7 Secrets of a Phenomenal Life visit www.howardpartridge.com.
Senior Life Insurance Company (www.seniorlifeinsurancecompany.com), founded in 2000 by Ron Powell, has been recognized as one of the fastest growing final expense companies in the United States. Headquartered in Thomasville, Georgia, employing over 200 home office employees and having over 6,500 agents in 40 states plus the District of Columbia, Senior Life offers final expense life insurance to anyone ages 0-85. Senior Life's sole mission is to help prepare families for the high cost of final expenses.
If you would like more information about this topic, please call or email Marsha Twilley at 229-221-7665 or mtwilley@srlife.net. You can also learn more about the products that Senior Life offers at https://www.seniorlifeinsurancecompany.com/our-products/